About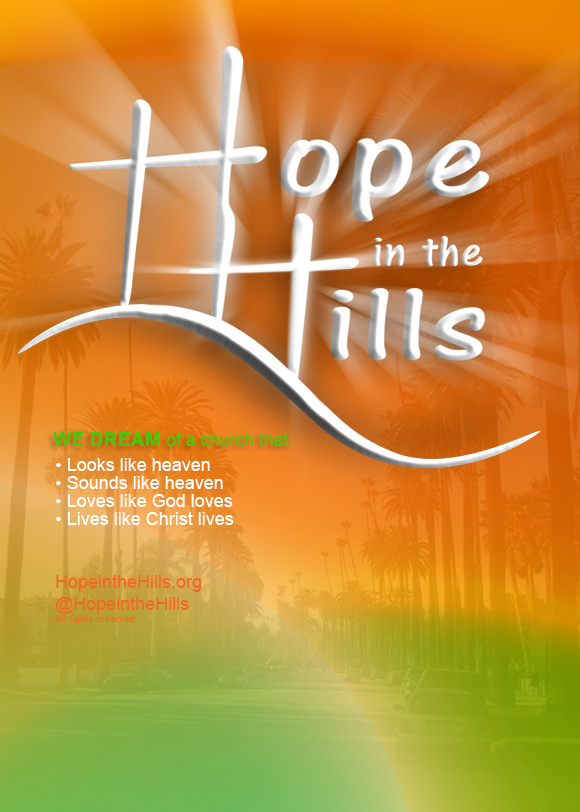 Hope in the Hills is:
a diverse church plant in Beverly Hills, made up of dream chasers and dream makers on a mission!
HOPE'S MISSION:
• Love God and people
• Share God's Word
HOPE'S VISION:
We dream of a church that
• Looks like heaven (diverse)
• Sounds like heaven (worship-filled)
• Loves like God loves (sacrificially)
• Lives like Christ lives (radically)
HOPE'S SCHEDULE:
SUNDAYS:
We gather every Sunday in Worship together, followed by food and fellowship. Building community and family is very important to us.
We currently rent space at Temple Emanuel of Beverly Hills on Sundays.
Sunday Service begins at 10:00 AM.
Worship & Intercession begins at 9:30 AM.
We have light refreshments during fellowship following service.
WEDNESDAYS
We've started our bi-weekly Community Group on Wednesdays, 7:30 PM. Contact Bobby & Teka for more information.
HOPE'S BELIEFS:
Hope in the Hills is interdenominational.
We have seven essential core doctrinal beliefs:
• the Trinity
• the full deity and humanity of Christ
• the spiritual lostness of the human race
• the substitutionary atonement and bodily resurrection of Christ
• salvation by faith alone in Christ alone
• the physical return of Christ
• the authority and inerrancy of Scripture.
HOPE'S STORY:
HOPE started as a dream, literally. Naima woke up and wrote a manifesto about a church as diverse as heaven, full of worship and equality, a family of believers who love as deeply and live as radically as God, a community on mission to impact their City of Angels and the world. Kevin had sensed the same calling two years prior, and the couple said "Yes" to God's great adventure of church planting.
The festivities kicked off with a dozen diverse artists and professionals gathering in Kevin and Naima's living room in Beverly Hills for a meal and eight-week "Mission: Possible" Bible Study series. By Christmas, each person had developed their personal mission statement, completed personality and spiritual gifts assessments and honed in on their specific life's purpose and how they would help others.
Meeting weekly over food and the Word, authentic community begin to develop. Folks expressed how they were being fed both spiritually and physically, and how they felt the Bible Study was the beginning of the church they had been searching for in Los Angeles. At the Lord's leading, Kevin and Naima prayed and began looking for a space to meet outside their home. On the first Sunday of January 2012, Hope in the Hills started off the New Year with a soft launch by renting the Interfaith Center of Beverly Hills in the City's busy, infamous commercial district.
The first years have been spent laying down strong roots in our community and building a solid foundation through praying and fasting, pouring into a gifted leadership team, serving our community and seeking God about His vision for and through Hope in the Hills. We've baptized, discipled, counseled, and walked alongside countless dream chasers and dream makers called to make a difference in Hollywood. CONTACT US for our latest developments. We're excited.
HOPE'S LEADERS:
For more information on Hope's Leadership:
GO TO HOPE'S TEAM
THE HOPE CENTER:
Fulfilling our mission to love God and people and share God's Word includes reaching our community. We dream of developing a Hope Center to address the unique needs of our artistic and professional community, one of the largest, yet most under-served communities in Los Angeles.
We equip Hollywood's next young leaders with life skills to not just "make it" in our industry, but to "make a difference" in our world. In order to do this, we must help them in the following 3 crucial areas:
• Make a Living – Survival
• Make a Difference – Service
• Make a Dream Come True – Success.
Contact us for more information.