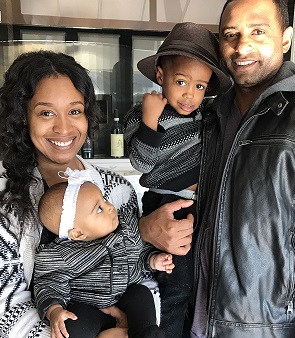 Bobby & Teka Perry
Community Group Leaders

Bobby and Teka, natives of Aurora, Colorado, married in 2009 and made their home in Los Angeles. Bobby, a collegiate baseball pitcher, began carving out a career at a corporate accounting firm, while Teka climbed the ladder as an Actors' Union representative by day and learned the music industry as a singer/songwriter by night. Welcome to Hollywood!
For two years, the adventurous couple, who loves the outdoors and frequently hikes the 200 feet Griffith Observatory trail overlooking the HOLLYWOOD sign, searched for a church home that aligned with their Biblical beliefs, where they could serve and grow in the Lord together. They finally found what they had been seeking in Hope in the Hills, where the Lord deepened their relationship with Him and clarified their purpose. Bobby volunteers on the Board, and Teka sings on the Worship Team while preparing to release her first solo album of inspirational pop songs (Teka Marie Perry). They recently welcomed their children Lincoln and McKenna into their growing family. Their faith is infectious.
During our Mission: Possible series, Bobby and Teka learned their spiritual gifts, and when Hope in the Hills launched our HOPE CONNECTION Groups, they volunteered to lead. Our community groups include believers and non-believers sharing a meal, building life together, and discussing Sunday's message. Click on the email address above to contact Bobby & Teka.