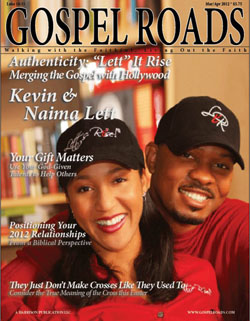 Pastors Kevin & Dr. Naima Lett
Pastors

Kevin and Naima met as freshmen at Howard University in Washington, D.C., where Kevin earned a Bachelors of Business Administration in MIS and Naima graduated summa cum laude with a Bachelors of Fine Arts in Acting. Within the first year of their marriage, Kevin was diagnosed with Hodgkin's Lymphoma, Stage Four. He survived after six months of chemotherapy and has since been cancer-free. The two have weathered many storms and joys together during 16 years of marriage that have well prepared them for a life of ministry.
Kevin brings over a dozen years of Fortune 100 corporate and managerial experience to the ministry, as well as his gifts as a skilled music producer, song writer, and certified audio engineer. He has been awarded several Leadership honors and distinctions while currently working in a corporate office of the federal government.
In addition to a successful, professional TV/FILM acting career, Rev. Dr. Naima Lett earned Dallas Theolgoical Seminary's first Masters in Media & Communication. She is the first female to receive the Doctor in Ministry in Preaching at BIOLA'S Talbot School of Theology, and has served in ministry for over two decades. Originally ordained as a Minster of the Gospel by the National Baptist Convention USA, Naima served in several non-denominational churches before co-founding Hope in the Hills as non-denominational. Her Hollywood Christian blog reaches globally, and she's the author of the new book and soon-to-be-series, Confessions of a Hollywood Christian. Naima loves helping others find their purpose and follow their dreams while deepening their faith.
Kevin and Naima founded Lett's Rise! Productions and were called to start a bible study in their living room with a dozen artists and professionals, which has become Hope in the Hills. When not ministering, Kevin and Naima enjoy movie date nights, vegan restaurants, and the beach.